CryoDerm

Gel compared to other Topical Analgesics

CryoDerm

Gel contains almost 300% more of the Pain Relieving ingredient Menthol than other Topical Analgesics
MENTHOL:
CryoDerm Gel contains almost 300% more of the active ingredient and Pain Reliever Menthol than other Topical Pain Relievers. Menthol is used clinically as an anti-inflammatory and Pain Reliever. It creates a cold sensation on the skin, by activating the peripheral cold receptors. †
CryoDerm also contains other important Natural Ingredients that other Topical Analgesics do not contain.
ARNICA:
CryoDerm Gel contains Arnica, research studies performed at the University of California San Francisco Medical Center showed topical applications of Arnica were effective in reducing bruising, swelling, edema, hematoma and contusions. †
BOSWELLA:
CryoDerm Gel contains Boswella, which has Anti-inflammatory and Anti-Arthritic actions in acute and chronic models of inflammation. Boswella reduces swelling, increasing mobility, thereby effectively reducing pain. †
EUCALYPTUS OIL:
CryoDerm Gel contains Eucalyptus, which is a pain reliever with warming properties that is also an anti-bacterial in nature. †
ILEX:
CryoDerm Gel contains ILEX which reduces pain, swelling and loosens stiff joints. †
MSM:
CryoDerm Gel contains MSM, which is a naturally occurring, essential nutrient found in healthy tissue and joints. Studies at The University of Oregon Medical School reported that: "MSM has a wide range of pharmacologic actions including membrane penetration, anti-inflammation, and local analgesia." Applied topically MSM also creates a tingling sensation. †
PEPPERMINT OIL:
CryoDerm Gel contains peppermint oil, which has anesthetic properties as well as being a vascular and lymphatic system stimulant. Peppermint creates a short term burning cold sensation. This aids in eliciting the Gate Theory of Pain control by blocking the deeper pain signal. †
SD Alcohol 39-C:
CryoDerm contains SD Alcohol 39-C an All Natural, Distilled Grain Alcohol. †

Proven Anti-Inflammatory
CRYODERM'S® KEY INGREDIENTS


are clinically proven to dilate blood vessels, inhibit inflammation, platelet adhesion, and oxidative damage through the production of Nitric Oxide and cGMP.


How it Works
Research has demonstrated that the ingredients in CryoDerm stimulate nitric oxide (NO) formation through activation of Ca2+/calmodulin-dependent protein kinase (CaM kinase). Nitric oxide, in turn, binds to and activates guanylyl cyclase. This enzyme catalyzes the dephosphorylation of GTP to cyclic GMP (cGMP), which serves as a second messenger for signaling smooth muscle relaxation.



Vascular effects of NO:
Direct vasodilation (flow dependent and receptor mediated)
Indirect vasodilation by inhibiting vasoconstrictor influences (e.g., inhibits angiotensin II and sympathetic vasoconstriction)
Anti-thrombotic effect - inhibits platelet adhesion to the vascular endothelium
Anti-inflammatory effect - inhibits leukocyte adhesion to vascular endothelium;
Anti-proliferative effect - inhibits smooth muscle hyperplasia
Scavenges free radicals, improving cellular health
cGMP: Cyclic GMP induces smooth muscle relaxation by multiple mechanisms including:
Increased intracellular cGMP, which inhibits calcium entry into the cell, and decreases intracellular calcium concentrations.
Activates K+ channels, which leads to hyperpolarization and relaxation
Stimulates a cGMP-dependent protein kinase that activates myosin light chain phosphatase, the enzyme that dephosphorylates myosin light chains, which leads to smooth muscle relaxation.
Induces smooth muscle relaxation
Inhibits blood clotting (platelet adhesion).


CryoDerm

Acts on Receptors

Research Shows That Key Ingredients In

CryoDerm

Also Act On Receptors In The Blood Vessels
These Key Ingredients Act to Restore Tissue Homeostasis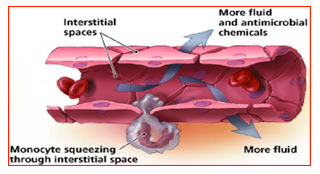 CryoDerm constricts blood vessels when they are over-dilated

When your muscles or joints are inflamed, such as after trauma, exertion, or in arthritis, the blood vessels become leaky and let plasma, white blood cells, and cytokines-the so-called "inflammatory soup" out into the surrounding tissue. The tissue becomes red, warm, swollen, and painful. CryoDerm'S® proprietary formulation counteracts the vasodilatory effects of the inflammatory mediators making blood vessels contract. This reduces swelling, redness, inflammation, eliminates pain, discomfort and restores the tissue homeostasis.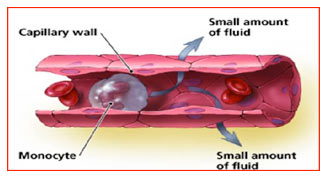 CryoDerm dilates blood vessels when they are in spasm

When your muscles are in spasm, the blood vessels are constricted, reducing the blood flow to the area and depriving the tissue of the vital oxygen. In this scenario CryoDerm'S® proprietary formulation causes relaxation of blood vessels and a reduction in sympathetic nerve-mediated contraction. CryoDerm® helps restore the natural balance by dilating the blood vessels, thus improving microcirculation, tissue oxygen supply, removing the toxic by-products of metabolism, resolving interstitial acidosis and speeding up tissue healing.



Summary
CryoDerm® aids in regulating blood flow depending on the tissue state, restoring natural homeostasis.


What they found:
A transient receptor potential channel that was previously believed to be found only in a subpopulation of sensory neurons, was recently identified in blood vessels. Isometric contraction studies on endothelium-denuded relaxed vessels found small contractions on application of CryoDerm'S® Key Ingredients. However, these ingredients caused relaxation of vessels precontracted with KCl (60 mM) or the α-adrenoceptor agonist phenylephrine (2 µM) and a reduction in sympathetic nerve-mediated contraction. Thus, these key CryoDerm® ingredients play multiple functional roles, likely to be in a tissue- and activation state-dependent manner, producing opposite effects, causing vasoconstriction or vasodilatation, depending on previous vasomotor tone.


References:
Am J Physiol Heart Circ Physiol. 2009 June; 296(6): H1868–H1877. Christopher D. Johnson, Donal Melanaphy, Andrew Purse, Susan A. Stokesberry, Paula Dickson, and Alexander V. Zholos. Transient receptor potential melastatin 8 channel involvement in the regulation of vascular tone. Am J Physiol Heart Circ Physiol. 2009 June; 296(6): H1868–H1877. Cardiovascular Biomedical Research Centre, School of Medicine, Dentistry and Biomedical Sciences, Medical Biology Centre, Queen's University, Belfast, United Kingdom.

Effects on Chemo Induced Neuropathy
ONE OF THE KEY INGREDIENTS IN

CryoDerm

REVERSES CHEMOTHERAPY-INDUCED PERIPHERAL NEUROPATHY AND ENABLES FURTHER EFFECTIVE CHEMOTHERAPY DELIVERY.


Multiple case reports have been published recently describing the revolutionary discovery that will help alleviate severe chemotherapy-induced peripheral neuropathy and to allow further life-prolonging chemotherapy.

Chemotherapy-induced peripheral neuropathy can be a major dose-limiting side effect and leave some cancer patients with long-term pain and functional disability. In some cases, the neuropathy can be so severe as to preclude further life-prolonging chemotherapy.


Case 1
In the article, Storey and co-workers (Edinburgh Cancer Research UK Centre, University of Edinburgh, United Kingdom) report a case of painful, carboplatin-induced peripheral neuropathy in a 71-yearold woman with a four and a half year history of Stage 4 epithelial ovarian cancer.

The woman presented with Grade 3 neurosensory toxicity and complaints of paresthesias, pain, weakness in her hands and difficulty with motor tasks. Amitriptyline 10 mg nightly helped the pain slightly, but she did not tolerate an increased dose of 25 mg.

Her CA-125(marker for ovarian cancer recurrence) was increasing again, but it was felt that her Grade 3 peripheral neuropathy would likely preclude her from further life-saving platinum or taxane therapy.


The authors treated her with topical application of the CryoDerm's® active ingredient applied over the upper extremities and the skin overlying the corresponding nerve roots. Detailed pain assessment was performed before the treatment, with further assessments 90 minutes after the application, then 2, 6, 10, and15 weeks later.


Results:
There was decreased pain in response to suprathreshold stimulus. The patient continued the treatment twice daily, and these changes were maintained at 2 weeks when she also reported less pain and improved function. By six weeks, the mechanical detection and pain thresholds had improved, and the area of abnormal sensation to light touch, cool, and warm stimuli had markedly decreased. By 10 weeks, her total Brief Pain Inventory score reduced from 31 to 10, and by 15 weeks, she was able to fasten buttons, undo jewelry clasps, and was no longer dropping things. When treatment was continued during chemotherapy, the peripheral neuropathy did not deteriorate.


Case 2
Colvin et al (Centre for Neuroscience Research, Departments of Hematology, Edinburgh, Scotland) report a case of severe bortezomib-induced neuropathy in a 69-year-old man with a 39-month history of multiple myeloma. After his disease relapsed, bortezomib was commenced as third-line antimyeloma treatment. Unfortunately, after two cycles of bortezomib, the patient complained of paresthesias, numbness, and "lightning-like" pains in both hands, which did not resolve despite a 50% dose reduction for the third cycle.

A month later, he developed an extremely painful peripheral neuropathy (grade 4) in his lower limbs. The predominant feature was severe burning, with significant sleep disturbance, high levels of distress, and reduced general function, such that he was virtually bed-bound. Bortezomib was therefore discontinued.

Treatment for neuropathic pain with traditional systemic agents was limited by significant adverse effects.

The patient was treated with CryoDerm's® active ingredient topically. It was applied to the lower limbs and to the skin over the lumbosacral region of the spine corresponding with the affected nerve roots, with a detailed pain assessment before the treatment, 90 minutes after treatment, and then 2 weeks later.


Results:
Profound changes in Quantitative Sensory Testing were detected 90 minutes after treatment. There was a marked increase in mechanical pain threshold with decreased pain in response to suprathreshold stimulus (VAS score changed from 8 to 2 for both right and left side) and complete reversal of wind-up (VAS reduced from 8 to 0). The patient was able to walk without a stick for the first time since the lower limb neuropathy started. These changes were consistently maintained at the 2-week assessment. The patient continued the treatment twice daily. After 5 days, he reported a sustained improvement in pain control, sleep, mobility, general function, and mood. This was maintained at 2 weeks with his total Brief Pain Inventory score reduced from 56 to 14 and his Hospital Anxiety and Depression scores reduced from 22 to 16. His hand symptoms, which were not treated, remained unchanged, suggesting no spontaneous resolution of his neuropathy.


Conclusions:
Effective treatment of chemotherapy-induced neuropathy with one of CryoDerm's® key active ingredients allowed continued life-prolonging treatment with good clinical response and no adverse effect!


References:
Dawn J. Storey BMedSci, BMBS, MD, Lesley A. Colvin BSc (Hons), MBChB, PhD, Melanie J. Mackean MBChB, MD, Rory Mitchell PhD, Susan M. Fleetwood-Walker PhD and Marie T. Fallon MBChB, MD. Reversal of Dose-Limiting Carboplatin-Induced Peripheral Neuropathy with TRPM8 Activator, Menthol, Enables Further Effective Chemotherapy Delivery. Journal of Pain and Symptom Management. Volume 39, Issue 6, June 2010, Pages e2-e4.
Proudfoot CJ, Garry EM, Cottrell DF, et al. Analgesia mediated by the TRPM8 cold receptor in chronic neuropathic pain. Curr Biol 2006; 16: 1591e1605.
Colvin LA, Johnson PRE, Mitchell R, Fleetwood-Walker SM, Fallon MT. From bench to bedside: a case of rapid reversal of bortezomib-induced neuropathic pain by the TRPM8 activator, Menthol. J Clin Oncol 2008; 26:4519e4520.

Research & Development
CryoDerm® is constantly researching, testing, and improving formulas that utilize the latest discoveries in organic natural substances. Biologists have discovered less than 5% of the benefits that come from plants on our planet. CryoDerm® stands ready to utilize the latest discoveries in the natural world to consistently improve and create new formulations.

In addition to pre-clinical testing on human volunteers, we have added a very important new dimension, using blood, urine and saliva testing, along with Applied Kinesiology. These effective methods provide superior factual data.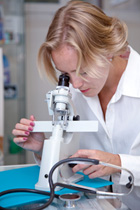 CryoDerm, has over a decade of experience researching and applying topical analgesics for pain management and exercise physiology.

Our staff includes a team of specialists including, Naturopaths, Pharmacists, Bio Chemists with experience in topically applied products, research and development, quality assurance and regulatory affairs including FDA cGMP compliance, USDA NOP and EU Reach Compliance. Another asset to our team is a specialist in biological plant engineering who is capable of observing and identifying active properties for their beneficial effects.

We also have a review panel of M.D.'s and Chiropractic Physicians who contribute in the development of new products for maximum safety and effectiveness. Other contributors include independent researchers investigating new plant-based nutrients from around the world.
† These statements have not been evaluated by the Food and Drug Administration. This product is not intended to diagnose, treat, cure, or prevent any disease.